Steven Tanger Center Information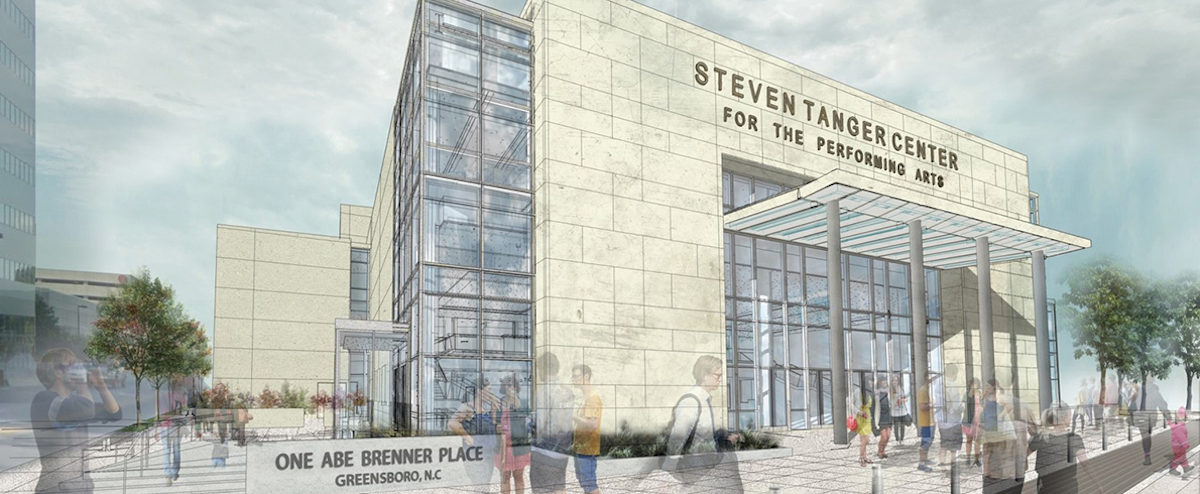 When North Carolina's War Memorial Auditorium was torn down in October 2014, it left a hole in the heart of North Carolina's famous theatre center. So plans were made to replace the torn down theatre with a brand new structure that would offer the state-of-the-art facilities that today's theatre-goers demand and all the amenities that modern-day productions needed. The funding for the venue began with $35 million privately gathered and paid over ten years by The Community Foundation of Greater Greensboro. The city of Greensboro added $30 million to the investment, alongside a $25 million bank loan the foundation requested to guarantee its contribution. Altogether, the venue will cost $85 million to construct by the time of its projected spring 2020 opening.
Besides the full schedule of comedy acts, musicals, plays, and events, the venue is also the intended home of local production companies including The Greensboro Symphony and Guilford College's Bryan Series. The facility has also been designed to attract touring Broadway productions, concerts, talk series, and holiday events from big-name production companies and celebrities.
The center, named after Steven Tanger, CEO of Tanger Factory Outlet Centers in honor of his $7.5 million pledge, is an expensive project. Originally, the project had an estimated budget cost of $50 million, including the cost of the land. But after necessary additions and unforeseen difficulties raised the cost, the city agreed to raise more money to pay for the project. This increased cost is set to pay for itself from ticket sales, as well as the prestige of being the hottest performance center in North Carolina.
The cost also extends to the design that includes a facade of limestone and glass as well as art displayed in the lobby paid for by donation. The seating has been designed for elegance, class, and comfort with white oak and red upholstery as well as VIP parking spaces and a Founders Room for special events.
At the time of writing, the venue is being built and fans, donors, and theatre-lovers are watching the construction with interest. What is known for a fact is that when the center is finally built, it will be the biggest venue in Greensboro and that is an exciting time to attend theatrical productions.
Below are useful pages for further information on the Steven Tanger Center for the Performing Arts:
Steven Tanger Center Parking:
Read latest parking options and rules at the Steven Tanger Center.
Ticket Policies:
Read the latest industry leading ticket guarantee and ticket authenticity policies when purchasing from tickets via this website.
Steven Tanger Center Seating Chart:
View the Steven Tanger Center for the Performing Arts seating chart and read latest information on the various seating options.